Assalamualaikum I wanted to know if it is permissible for a Muslim woman to be the head of an Islamic state. Many people quote a Hadith from Abu Bakrah, one of the companions of the Prophet () ,that indicates it is not permissible.Is that Hadith authentic?
Alaikumassalam wa rahmatullah,
There are different opinions on this question. The highly respected scholars Muhammad al-Ghazali and Yusuf al-Qaradawi believe that it is permissible for women to be leaders of state and consider the evidence of the Quran (which portrays the Queen of Sheba as a good leader) to be more important than the evidence of hadith.
The hadith of Abu Bakra that you referred to is the following:
During the battle of Al-Jamal, Allah benefited me with a Word (I heard from the Prophet). When the Prophet heard the news that the people of the Persia had made the daughter of Khosrau their Queen (ruler), he said, "Never will succeed such a nation as makes a woman their ruler."

Sahih al-Bukhari 7099
I decided to conduct a study of all existing chains of this hadith to find out its level of authenticity based on my hadith verification methodology. Below is a diagram of the result: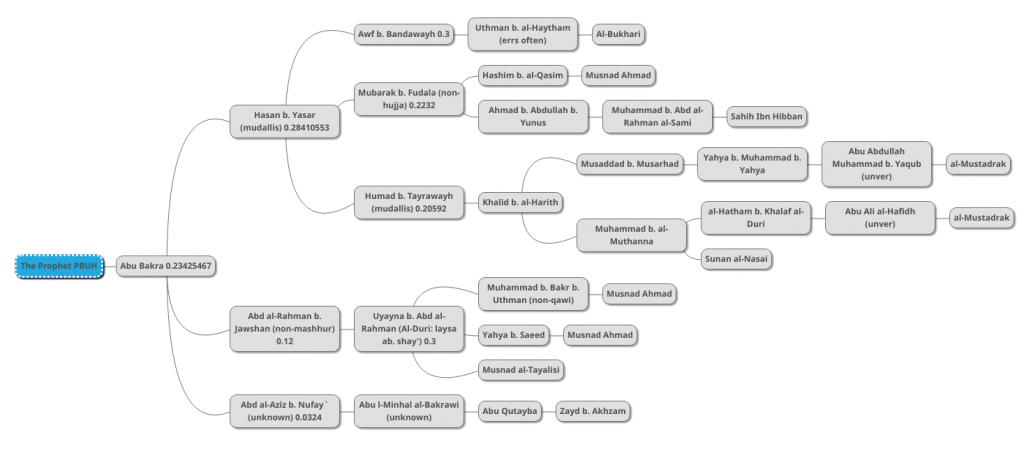 The result of my computations is that this hadith has a 24.3% authenticity score, which makes it fall below the 30% needed for ṣaḥīḥ. This means that this is a relatively low-quality hadith whose authenticity is inherently doubtful (even without this computation, all hadiths that come from a single companion, such as this one, are inherently doubtful). All of the chains of the hadith have problematic transmitters:
The first one comes through Hasan b. Yasar, a known mudallis (a person who misattributes hadiths). It then comes through Uthman b. Haytham, known to err often, Mubarak b. Fudala, who is considered a non-hujja by one hadith scholar (his hadiths are not worth being used as evidence), and Humad b. Tayrawayh, another mudallis.
The second one comes through Abd al-Rahman b. Jawshan, a little-known transmitter, then through Uyayna b. Abd al-Rahman, whose hadiths are considered worthless by one hadith scholar.
The third one comes through Abd al-Aziz b. Nufay`, an unknown person, then through Abu al-Minhal al-Bakrawi, another unknown person.
None of the chains come through highly respected transmitters.
Therefore this hadith has no power to form the basis of judgment on such an important issue.
The opinions of al-Ghazali and al-Qaradawi is therefore to be preferred. Since we do not have any strong evidence against the leadership of women as heads of state in the Quran or Sunna, the matter is left to the judgment of the people themselves.
References:
And God knows best.
Asking questions is temporarily unavailable. Sorry for the inconvenience.