Amr (transliteration: ʿAmr, Arabic: عمرو) is an Arabic name for boys that according to Ibn Faris means "the visible part of the flesh of a person's jaw", meaning the part of the flesh of the jaw that can ordinarily be seen in the mouths of some people when they speak.1 Amr also refers to a high-quality type of date from Bahrain.2 According to the Sultan Qaboos Encyclopedia of Arab Names, Amr may also mean "lifetime".
The Arabic spelling of the name Amr is unusual in that it ends with a و, which makes it seem like it would be read as ʿAmrū, and in fact some people who do not know better pronounce it as such. The reason for the و was to distinguish the name from the name Umar, which in ancient Arabic would have been written exactly the same as Amr due to the fact that vowel-signs (ḥarakāt) weren't in use yet. The Arabians added an additional و at the end of Amr as a convention for distinguishing it from Umar.
Amr was an extremely common name in ancient Arabia. In fact, there are 317 Companions of the Prophet Muhammad

named Amr. Their names are listed at the bottom of this article.
Below is the name Amr written in Arabic naskh script: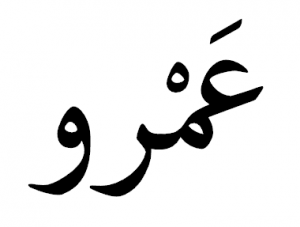 Below is the name Amr written in Arabic kufi script:
Below is the list of Companions of Prophet Muhammad

named Amr:
Amr bin Uthathah bin Abd al-Uzzaa al-Adawi عمرو بن أثاثة بن عبد العزى العدوي
Amr bin al-Ahmar عمرو بن الأحمر
Amr bin al-Ahwadh al-Jashmi عمرو بن الأحْوَض الجشمي
Amr bin Uhaihah عمرو بن أحيحة
Amr bi Akhtab al-Ansari عمرو بن أخطب الأنصاري
Amr bin Arakah عمرو بن أراكة
Amr bin al-Azraq عمرو بن الأزرق
Amr bin Abi al-Asad عمرو بن أبي الأسد
Amr bin al-Aswad al-Ansari عمر بن الأسود العنسي
Amr bin al-Aswad عمرو بن الأسود
Amr bin al-Aswad bin Aamir al-Taa'i عمرو بن الأسود بن عامر الطائي
Amr bin al-Ashraf al-Atki عمرو بن الأشرف العتكي
Amr bin Umayyah bin Khuwailid عمرو بن أمية بن خويلد
Amr bin Umayyah bin al-Harith عمرو بن أمية بن الحارث
Amr bin Umayyah bin Wahb عمرو بن أمية بن وهب
Amr bin Umayyah al-Dawsi عمرو بن أمية الدوسي
Amr bin Anas al-Ansari عمرو بن أنس الأنصاري
Amr al-Ansari father of Sa`eed عمرو الأنصاري والد سعيد
Amr bin al-Ahtam al-Tamimi al-Muqri' عمرو بن الأهتم التميمي المقرئ
Amr bin Aws bin Abi Aws al-Thaqafi عمرو بن أوس بن أبي أوس الثقفي
Amr bin Aws bin Utaik عمرو بن أوس بن عتيك
Amr bin Uwais عمرو بن أويس
Amr bin Uwais bin Sa`d عمرو بن أويس بن سعد
Amr bin Iyas bin Zayd عمرو بن إياس بن زيد
Amr bin Iyas al-Ansari عمرو بن إياس الأنصاري
Amr bin Aiba` عمرو بن أيبع
Amr bin Bajad al-Ash`ari عمرو بن بجاد الأشعري
Amr bin al-Badaah al-Qaisi عمرو بن البداح القيسي
Amr bin Budail bin Warqaa' al-Khuza`i عمرو بن بديل بن ورقاء الخزاعي
Amr bin Buraqah عمرو بن براقة
Amr al-Bakali عمرو البكالي
Amr bin Bakr عمرو بن بكر
Amr bin Bulail bin Uhaihah al-Ansari عمرو بن بليل بن أحيحة الأنصاري
Amr bin Biba عمرو بن بيبا
Amr bin Ba`kak عمرو بن بعكك
Amr bin Bakr عمرو بن بكر
Amr bin Bulail bin Bilal عمرو بن بليل بن بلال
Amr bin Taim al-Bayadhi عمرو بن تيم البياضي
Amr bin Taghlib al-Abdi عمرو بن تغلب العبدي
Amr bin Taim al-Bayadh عمرو بن تيم البياض
Amr bin Thabit bi Wuqaish عمرو بن ثابت بن وقيش
Amr bin Tha`labah al-Khushani عمرو بن ثعلبة الخشني
Amr bin Tha`labah al-Juhani عمرو بن ثعلبة الجهني
Amr bin Tha`labah al-Sahmi عمرو بن ثعلبة السهمي
Amr bin Jabir al-Taa'i عمرو بن جابر الطائي
Amr bin Tha`labah عمرو بن ثعلبة
Amr al-Thumali عمرو الثمالي
Amr bin Thuna عمرو بن ثنى
Amr bin Jurad عمرو بن جراد
Amr bin Jallas عمرو بن جلاس
Amr bin al-Jamooh عمرو بن الجموح
Amr bin Junah عمرو بن جنة
Amr bin Jundub bin Amr al-Anbari عمرو بن جندب بن عمرو العنبري
Amr bin Abi Jundub al-Wadaa`i عمرو بن أبي جندب الوادعي
Amr bin Jundub عمرو بن جندب
Amr bin Jundub al-Anbari عمرو بن جندب العنبري
Amr bin Jahm bin Qais عمرو بن جهم بن قيس
Amr bin al-Harith bin Zuhair عمرو بن الحارث بن زُهير
Amr bin al-Harith bin Abi Dharar عمرو بن الحارث بن أبي ضرار
Amr bin al-Harith bin Amr عمرو بن الحارث بن عمرو
Amr bin al-Harith bin al-Mustalaq عمرو بن الحارث بن المصطلق
Amr bin al-Harith bin Kindah عمرو بن الحارث بن كندة
Amr bin al-Harith bin Haishah عمرو بن الحارث بن هيشة
Amr bin Habeeb bin Abd Shams عمرو بن حبيب بن شمس
Amr bin Habeeb Abu Muhjin al-Thaqafi عمرو بن حبيب أبو محجن الثقفي
Amr bin Abi Habeebah عمرو بن أبي حبيبة
Amr bin al-Hajjaj al-Zubaidi عمرو بن الحجاج الزبيدي
Amr bin Haram al-Ansari عمرو بن حرام الأنصاري
Amr bin Huraith bin Amr عمرو بن حريث بن عمرو
Amr bin Huraith عمرو بن حريث
Amr bin Huzabah عمرو بن حزابة
Amr bin Hazm bin Zayd عمرو بن حزم بن زيد
Amr bin Hazn al-Numari عمرو بن حزن النمري
Amr bin Hassan bin Mu`awiyah عمرو بن حسان بن معاوية
Amr bin Abi Hasan al-Ansari عمرو بن أبي حسن الأنصاري
Amr bin al-Hakam al-Qudha`i عمرو بن الحكم القضاعي
Amr bin al-Hadhrami عمرو بن الحضرمي
Amr bin Hamas al-Laithi عمرو بن حماس الليثي
Amr bin al-Hamam bin al-Jamooh al-Ansari عمرو بن الحمام بن الجموح الأنصاري
Amr bin Abi Hamzah bin Sinan al-Aslami عمرو بن أبي حمزة بن سنان الأسلمي
Amr bin Hamzah bin Abd al-Mutallib عمرو بن حمزة بن عبد المطلب
Amr bin Hamzah bin Sinan al-Alsami عمرو بن حمزة بن سنان الأسلمي
Amr bin Abi Hamzah al-Hudhali عمرو بن أبي حمزة الهذلي
Amr bin Hamamah عمرو بن حممة
Amr bin al-Hamiq عمرو بن الحَمِق
Amr bin Kharijah عمرو بن خارجة
Amr bin Kharijah bin al-Muntafaq al-Asadi عمرو بن خارجة بن المنتفق الأسدي
Amr bin Khubaib bin Amr al-Anbari عمرو بن خبيب بن عمرو العنبري
Amr bin Abi Khuza`ah عمرو بن أبي خزاعة
Amr bin al-Khafaji al-Aamiri عمرو بن الخفاجي العامري
Amr bin Khalas عمرو بن خلاس
Amr bin Khalf bin Aimar al-Tamimi عمرو بن خلف بن عمير التميمي
Amr bin Khuwailid al-Khuza`i عمرو بن خويلد الخزاعي
Amr bin al-Hibr bin Amr عمرو بن الحبر بن عمرو
Amr bin Dinar عمرو بن دينار
Amr bin Raafi` عمرو بن رافع
Amr bin Raa`i al-Rakkab عمرو بن راعي الركاب
Amr bin Ri'ab عمرو بن رئاب
Amr bin Rab`i عمرو بن ربعي
Amr bin Rabee`ah عمرو بن ربيعة
Amr bin Rabee`ah bin Ka`b عمرو بن ربيعة بن كعب
Amr bin Zaa'idah عمرو بن زائدة
Amr bin al-Zubair عمرو بن الزبير
Amr bin Zurarah al-Ansari عمرو بن زرارة الأنصاري
Amr bin Zurarah عمرو بن زرارة
Amr bin Zurarah bin Qais عمرو بن زرارة بن قيس
Amr bin Abi Zuhair bin Malik عمرو بن أبي زهير بن مالك
Amr father of Zur`ah عمرو والد زرعة
Amr bin Saalim bin Hudhairah al-Khuza`i عمرو بن سالم بن حضيرة الخزاعي
Amr bin Subai` al-Rahawi عمرو بن سبيع الرهاوي
Amr bin Suraqah عمرو بن سراقة
Amr bin Abi Sarh عمرو بن أبي سرح
Amr bin Sa`d bin al-Harith bin Ubad عمرو بن سعد بن الحارث بن عباد
Amr bin Sa`d bin Amr عمرو بن سعد بن عمرو
Amr bin Sa`d bin Mu`adh al-Ansari al-Awsi عمرو بن معاذ الأنصاري الأوسي
Amr bin Sa`d عمرو بن سعد
Amr bin Sa`d 2 عمرو بن سعد آخر
Amr bin Sa`d 3 عمر بن سعد آخر
Amr bin Sa`d bin Abi Waqqas al-Zuhari عمرو بن سعد بن أبي وقاص الزهري
Amr bin Sa`di al-Qardhi عمرو بن سعدي القرظي
Amr al-Sa`di عمرو السعدي
Amr bin Sa`waa' عمرو بن سعواء
Amr bin Sa`eed al-Az`ar al-Ansari عمر بن سعيد الأزعر الأنصاري
Amr Abu Sa`eed al-Ansari عمرو أبو سعيد الأنصاري
Amr bin Sa`eed al-Thaqafi عمرو بن سعيد الثقفي
Amr bin Sa`eed al-Aas عمرو بن سعيد العاص
Amr bin Sa`eed al-Hudhali عمر بن سعيد الهذلي
Amr bin Sufyan al-Baka`i عمر بن سفيان البكائي
Amr bin Sufyan al-Thaqafi عمرو بن سفيان الثقفي
Amr bin Sufyan al-Muharibi عمر بن سفيان المحاربي
Amr bin Sufyan عمرو بن سفيان
Amr bin Sufyan bin Abd Shams عمر بن سفيان بن عبد شمس
Amr bin Abi Salamah al-Aslami عمرو بن أبي سلامة الأسلمي
Amr bin Salamah bin Waqsh al-Ansari عمرو بن سلامة بن وقش الأنصاري
Amr bin Salamah bin Sakn عمرو بن سلمة بن سكن
Amr bin Salamah bin Qais al-Jarmi عمرو بن سلمة بن قيس الجرمي
Amr bin Salamah al-Dhumari عمرو بن سلمة الضمري
Amr bin Salamah bin Ka`b عمرو بن سلمة بن كعب
Amr bin Abi Salmnaa al-Hujaimi عمرو بن أبي سلمى الهجيمي
Amr bin Sulaim al-Awfi عمرو بن سليم العوفي
Amr bin Sulaim al-Zuraqi عمرو بن سليم الزرقي
Amr bin Sulaiman al-Muzani عمرو بن سليمان المزني
Amr bin Samarah bin Habeeb عمرو بن سمرة بن حبيب
Amr bin Sumai` عمرو بن سميع
Amr bin Sinan al-Khudri عمرو بن سنان الخدري
Amr bin Sanah al-Aslami عمرو بن سنة الأسلمي
Amr bin Sahl bin al-Harith al-Awsi عمرو بن سهل بن الحارث الأوسي
Amr bin Sahl bin Amr al-Aamiri عمرو بن سهل بن عمرو العامري
Amr bin Sahl bin Qais al-Ansari عمرو بن سهل بن قيس الأنصاري
Amr bin Sahl al-Ansari عمرو بن سهل الأنصاري
Amr bin Sawad عمرو بن سواد
Amr ibn Shas al-Asadi عمرو بن شاس الأسدي
Amr bin Shubail عمرو بن شبيل
Amr bin Shubail 2 عمرو بن شبيل 2
Amr bin Shatarbi عمرو بن شتربي
Amr bin Sharaheel عمرو بن شراحيل
Amr bin Sharaheel 2 عمرو بن شراحيل
Amr bin Sharhabeel al-Hamdani al-Kufi عمرو بن شرحبيل الهمداني الكوفي
Amr Abu Shuraih al-Khuza`i عمرو أبو شريح الخزاعي
Amr bin al-Shuraid al-Thaqafi عمرو بن الشريد الثقفي
Amr bin Sha`tham al-Thaqafi عمرو بن شعثم الثقفي
Amr bin Shu`aith عمرو بن شُعيث
Amr bin Shimr عمرو بن شمر
Amr bin Sulai` عمرو بن صليع
Amr al-Taa'i عمرو الطائي
Amr bin Turaif bin Amr عمرو بن طريف بن عمرو
Amr bin Turaif father of al-Tufail عمرو بن طريف والد الطفيل
Amr bin al-Tufail bin Amr al-Dawsi عمرو بن الطفيل بن عمرو الدوسي
Amr bin Talhah al-Ansari عمرو بن طلحة الأنصاري
Amr bin Talq al-Ansari عمرو بن طلق الأنصاري
Amr bin Dhaalim bin Sufyan عمرو بن ظالم بن سفيان
Amr bin al-Aas عمرو بن العاص
Amr bin Aasim al-Ash`ari عمرو بن عاصم الأشعري
Amr bin Aamir bin Rabee`ah عمرو بن عامر بن ربيعة
Amr bin Aamir bin al-Tufail عمرو بن عامر بن الطفيل
Amr bin Aamir bin Malik عمرو بن عامر بن مالك
Amr bin Aamir al-Ansari عمرو بن عامر الأنصاري
Amr bin Aamir al-Sulami عمرو بن عامر السلمي
Amr bin Abdullah al-Ansari عمرو بن عبد الله الأنصاري
Amr bin Abdullah al-Ansari 2 عمرو بن عبد الله الأنصاري آخر
Amr bin Abdullah al-Adawi عمرو بن عبد الله العدوي
Amr bin Abdullah al-Hadhrami عمرو بن عبد الله الحضرمي
Amr bin Abdul Asad al-Makhzumi عمرو بن عبد الاسد المخزومي
Amr bin Abdullah al-Bakali عمرو بن عبد الله البكالي
Amr bin Abdullah bin Bahar عمرو بن عبد الله بن بهار
Amr bin Abdullah al-Harithi عمرو بن عبد الله الحارثي
Amr bin Abdullah al-Shami عمرو بن عبد الله الشامي
Amr bin Abdullah bin Safwan عمرو بن عبد الله بن صفوان
Amr bin Abdullah al-Dhubabi عمرو بن عبد الله الضبابي
Amr bin Abd al-Qaari عمرو بن عبد القاري
Amr bin Abdul Harith عمرو بن عبد الحارث
Amr bin Abd al-Uzzaa عمرو بن عبد العزى
Amr bin Abd Amr عمرو بن عبد عمرو
Amr bin Abd Qais عمرو بن عبد قيس
Amr bin Abd Nahm al-Aslami عمرو بن عبد نهم الأسلمي
Amr bin Abd Wad bin al-Harith عمرو بن عبد ود بن الحارث
Amr bin Abasah عمرو بن عَبَسَة
Amr bin Ubaish عمرو بن عبيش
Amr bin Ubaidullah al-Hadhrami عمرو بن عبيد الله الحضرمي
Amr bin Utbah bin Nawfal al-Qarashi عمرو بن عتبة بن نوفل القرشي
Amr bin Uthman bin Ka`b عمرو بن عثمان بن كعب
Amr bin Adi bin Muharib عمرو بن عدي بن محارب
Amr bin Uraib bi Handhalah عمرو بن عريب بن حنظلة
Amr bin Azrah bin Amr عمرو بن عزرة بن عمرو
Amr bin Atiyyah عمرو بن عطية
Amr bin Atiyyah 2 عمرو بن عطية آخر
Amr bin Uqbah عمرو بن عقبة
Amr bin Uqbah bin Niyar al-Ansari عمرو بن عقبة بن نيار الأنصاري
Amr bin Abi Aqrab عمرو بن أبي عقرب
Amr bin Uqail عمرو بن عقيل
Amr bin Ikrimah bin Abi Jahl عمرو بن عكرمة بن أبي جهل
Amr bin Alqamah bin Ulathah al-Aamiri عمرو بن علقمة بن علاثة العامري
Amr bin Qubaisah عمرو بن قبيصة
Amr bin Qurait عمرو بن قريط
Amr bin Kuraib bin al-Mu`alaa عمرو بن كريب بن المعلى
Amr bin Umar al-Ash`ari عمرو بن عمرو الأشعري
Amr bin Amr al-Harithi عمرو بن عمرو الحارثي
Amr bin Abi Amr al-Ajlani عمرو بن أبي عمرو العجلاني
Amr bin Abi Amr al-Muzani عمرو بن أبي عمرو المزني
Amr bin Abi Amr bin Shadad al-Fihri عمرو بن أبي عمرو بن شداد الفهري
Amr bin Abi Amr عمرو بن أبي عمرو
Amr bin Abi Amrah عمرو بن أبي عمرة
Amr bin Umair al-Ansari عمرو بن عمير الأنصاري
Amr bin Umair bin Adi عمرو بن عمير بن عدي
Amr bin Umair عمر بن عُمير
Amr bin Abi Umair عمرو بن أبي عمير
Amr bin Umais bin Mas`ud عمرو بن عميس بن مسعود
Amr bin Anmah عمرو بن عنمة
Amr bin Awf al-Muzani عمرو بن عوف المزني
Amr bin Awf al-Ansari عمرو بن عوف الأنصاري
Amr bin Awf bin Yarboo` عمرو بن عوف بن يربوع
Amr bin Ghaziah عمرو بن غزية
Amr bin Ghanm bin Mazin عمرو بن غنم بن مازن
Amr bin Ghailan bin Salamah al-Thaqafi عمرو بن غيلان بن سلمة الثقفي
Amr bin al-Fuhail عمرو بن الفحيل
Amr Abu Firas al-Laithi عمرو أبو فراس الليثي
Amr bin Farwah bin Awf al-Ansari عمرو بن فروة بن عوف الأنصاري
Amr bin Fudhail bin Abdah عمرو بن فضيل بن عبدة
Amr bin Fulan al-Ansari عمرو بن فلان الأنصاري
Amr bin Fulan bin Turaif al-Dawsi عمرو بن فلان بن طريف الدوسي
Amr bin Qurrah عمرو بن قرة
Amr bin al-Qa`waa' عمرو بن القعواء
Amr bin Qais bin Hazn عمرو بن قيس بن حزن
Amr bin Qais bin Kharijah عمرو بن قيس بن خارجة
Amr bin Qais bin Raa'idah bin al-Asam عمرو بن قيس بن رائدة بن الأصم
Amr bin Qais bin Zayd عمرو بن قيس بن زيد
Amr bin Qais bin Malik عمرو بن قيس بن مالك
Amr bin Qais al-Azdi عمرو بن قيس الأزدي
Amr bin Ka`b bin Amr al-Ghaffari عمرو بن كعب بن عمرو الغفاري
Amr bin Ka`b grandfather of Talhah عمرو بن كعب جد طلحة
Amr bin Kilab عمرو بن كلاب
Amr bin Kulthum al-Khuza`i عمرو بن كلثوم الخزاعي
Amr bin Kulaib al-Yahsabi عمرو بن كليب اليحصبي
Amr bin Kaisabah al-Nahdi عمر بن كيسبة النهدي
Amr father of Firas al-Laithi عمرو والد فراس الليثي
Amr bin Mazin al-Ansari عمرو بن مازن الأنصاري
Amr bin Malik al-Ashja`i عمرو بن مالك الأشجعي
Amr bin Malik al-Ash`ari عمرو بن مالك الأشعري
Amr bin Malik al-Awsi عمرو بن مالك الأوسي
Amr bin Malik bin Ja`far عمرو بن مالك بن جعفر
Amr bin Malik al-Akki عمرو بن مالك العكي
Amr bin Malik bin Umairah عمرو بن مالك بن عميرة
Amr bin Malik al-Juhani عمرو بن مالك الجهني
Amr bin Malik bin Umair عمر بن مالك بن عمير
Amr bin Malik bin Qais bin Bujaid عمرو بن مالك بن قيس بن بجيد
Amr bin Malik عمرو بن مالك
Amr bin al-Mahjoob al-Aamiri عمرو بن المحجوب العامري
Amr bin Muhsin al-Ansari عمرو بن محصن الأنصاري
Amr bin Muhsin bin Harthan عمرو بن محصن بن حرثان
Amr bin Muhsin عمرو بن محصن
Amr bin Muhsin bin Hurthan عمرو بن محصن بن حُرثان
Amr bin Muhammad bin Salamah al-Ansari عمرو بن محمد بن سلمة الأنصاري
Amr bin Makhzum al-Ghadhiri عمرو بن مخزوم الغاضري
Amr bin al-Marjum عمرو بن المرجوم
Amr bin Mirdas عمرو بن مرداس
Amr bin Mirdas al-Sulami عمرو بن مرداس السلمي
Amr bin Murrah bin Abd Yaghooth عمرو بن مرة بن عبد يغوث
Amr bin Murrah bin Abs al-Juhani عمرو بن مُرّة بن عبس الجهني
Amr bin al-Misbah عمرو بن المسبح
Amr bin Mas`ud bin Mu`tib عمرو بن مسعود بن معتب
Amr bin Muslim عمرو بن مسلم
Amr bin Mutrif عمرو بن مطرف
Amr bin Mut`im عمرو بن مطعم
Amr bin Mu`adh bin al-Jamooh al-Ansari عمرو بن معاذ بن الجموح الأنصاري
Amr bin Mu`adh bin al-Nu`man عمرو بن معاذ بن النعمان
Amr bin Mu`awiyah al-Ghadhiri عمرو بن معاوية الغاضري
Amr bin Mu`awiyah bin al-Muntafiq عمرو بن معاوية بن المنتفق
Amr bin Ma`bad bin al-Azhar عمرو بن معبد بن الأزعر
Amr bin Ma`di عمرو بن معدي
Amr bin Umm Maktum al-Qarashi عمرو بن أم مكتوم القرشي
Amr bin Ma`di Karb al-Zubaidi عمرو بن معدي كرب الزبيدي
Amr ibn al-Mundhir bin Asr عمرو بن المنذر بن عصر
Amr slave of Khubab عمرو مولى خباب
Amr bin Maimun al-Azdi عمرو بن ميمون الازدي
Amr bin Nadhlah عمرو بن نضلة
Amr bin al-Nu`man bin al-Baraa' عمرو بن النعمان بن البراء
Amr bin al-Nu`man bin Muqrin al-Muzani عمرو بن النعمان بن مقرن المزني
Amr bin al-Nu`man al-Bayadhi al-Ansari عمرو بن النعمان البياضي الأنصاري
Amr bin al-Nu`man al-Ansari عمرو بن النعمان الأنصاري
Amr bin Hisham bin Amr عمرو بن هشام بن عمرو
Amr bin Hubairah bin Abi Wahb al-Makhzumi عمرو بن هبيرة بن أبي وهب المخزومي
Amr bin al-Haitham bin al-Salt عمرو بن الهيثم بن الصلت
Amr bin Haram عمرو بن هرم
Amr bin Hilal عمرو بن هلال
Amr bin Hilal al-Muzani عمرو بن هلال المزني
Amr bin al-Hudhail al-Abdi al-Rab`i عمرو بن الهذيل العبدي الربعي
Amr bin Waa'ilah عمرو بن وائلة
Amr bin Wabisah bin Ma`bad عمرو بن وابصة بن معبد
Amr bin Wabrah عمرو بن وبرة
Amr bin Wahb al-Thaqafi عمرو بن وهب الثقافي
Amr bin Yathribi al-Dhamri عمرو بن يثربي الضمري
Amr bin Yahya عمرو بن يحيى
Amr bin Yazn عمرو بن يزن
Amr bin Yazeed bin al-Sakan عمرو بن يزيد بن السكن
Amr bin Yazeed bin al-Harith al-Hudhali عمرو بن يزيد بن الحارث الهذلي
Amr bin Yazeed عمرو بن يزيد
Amr bin Ya`laa al-Thaqafi عمرو بن يعلى الثقفي
Footnotes